Residents of Santa Fe are required to obtain a backflow prevention device. This is an important measure because backflow is contaminated water which could be hazardous and leave your household vulnerable to illnesses caused by pollutants. A backflow happens when the pipes in your home experience an unforeseen pressure change. If the pressure lowers, the water is then pulled back through the pipes in a manner of suction. If the pressure is higher, the water is involuntarily turned backwards.
The Safe Drinking Water Act (SWDA) of 1974 established a national program that would ensure the quality of America's drinking water. It included a Federal mandate that the local water district provide safe drinking water and authorized the Environmental Protection Agency (EPA) to set standards for contaminants in public water systems. If a backflow does exist, then your device is not working properly or is damaged, leaving the door open for an unhealthy mix of sewage water intermingling with your drinking water.
Perma- Liner Industries is here for you! We have partnered with plumbers in Santa Fe to can make sure your home is protected. We can recommend the best company for the job. Call us or go online to www.perma-liner.com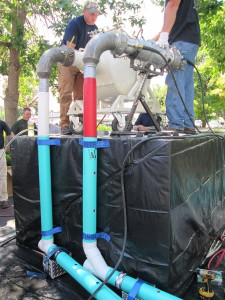 Santa Fe, SAVE THE DATE!!
Mark your calendars because you won't want to miss this! On September 15th-17th Perma-Liner Industries is hosting a very special event and we'd love to see you!! We're having our Open House at our facility in Clearwater, FL. and it's sure to be a great time. We'll have our excellent staff here to answer all of your questions about Cured-in-Place Pipeline products and our state of the art trenchless technology. Come out and see live demonstrations, share friendly conversations and gain information. Meals will be provided! Please register at no cost: info@perma-liner.com or 1-866-336-2568. Click Here to Register!